NOS steering gearbox bolts Chevy Corvette Chevelle Camaro 64 65 66 67 68 69 70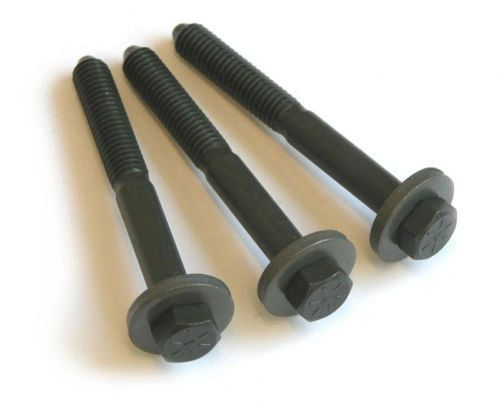 NOS steering gearbox bolts Chevy Corvette Chevelle Camaro 64 65 66 67 68 69 70
SUPPORT AMERICAN WORKERS!
BUY AMERICAN-MADE PRODUCTS!

These are a set of NEW steering gear box bolts.    These are correct for all manual and power steeting gear boxes.  These are the 3 bolts and washers that mount to gear box to the frame.  Thesehave the correct phosphate plating, and the correct head markings.    
.
Search   Corvette Chevelle el camino malibu impala caprice biscayne camaro monte carlo nova chevy ss rs/ss  V8 302 307 350 400 396 454 427 327 from 64-88  64 65 66 67 68 69 70 71 72 73 74 75 76 77 78 79 80 81 82 83 84 85 86 87 88 1967 1968 1967 1969 1970 1971 1964 1965 1966 1972 1973 1974 1975 1976 1977 1978 1979 1980 1981 1982 1983 1984 1986 1985 1988 1987chevy chevrolet copo yenko rare corvette vette stingray l88 l82 427 454 396 l89 ls5 ls6 ls7 impala caprice biscayne chevelle malibu ss rs rs/ss z28 z-28 z/28 copo nova camaro kingswood