NOS big block valve cover hold downs 65-74 Chevy Chevelle Camaro Nova 396 454 69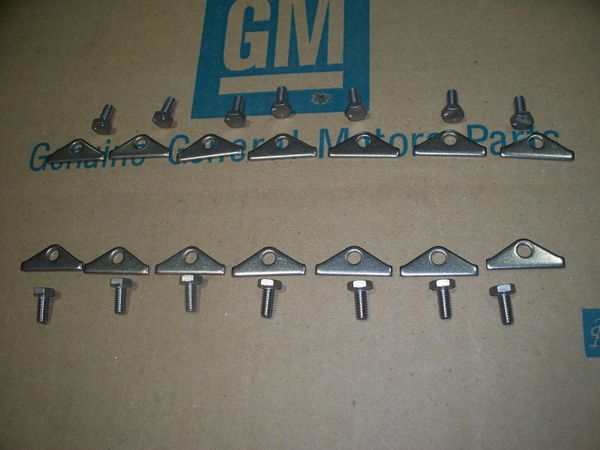 NOS big block valve cover hold downs 65-74 Chevy Chevelle Camaro Nova 396 454 69
SUPPORT AMERICAN WORKERS!
BUY AMERICAN-MADE PRODUCTS!

These are a set of 14 bolts and 14 hold down tabs for the valve covers for Chevy big block models.   These have the correct plating, and the correct R B W head markings. 
In order to satisfy the most discriminating enthusiast/restorer, we offer this hardware.  These will provide the finishing touch for any original or restored vehicle. They are the exact lengths and contain the correct coloring.  These sets are identical as they would have appeared on the vehicle when it shipped from the factory.  For those of you concerned about having your car judged, our hardware will pass all judging standards. They will look, fit and perform exactly as original.
These fit 65-75 Chevelle Malibu Monte Carlo Nova Chevy II Camaro Impala w/ big block engines
Search  ss super sport rs rs/ss copo yenko rare z-28 z28 z/28 monte carlo caprice  el camino chevy Chevrolet 69 70 71 72 1969 1970 1971 1972 68 73 74 75 1968 1973 1974 1975 396 402 427 454