manual trans to bell housing bolts 66-72 Chevy Buick Olds Pontiac Chevelle GTO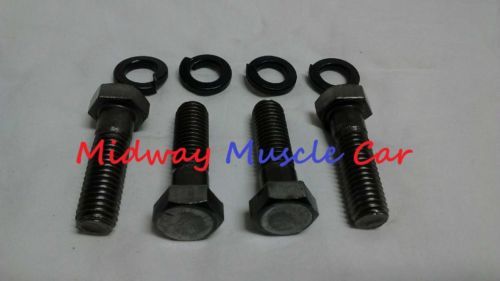 manual trans to bell housing bolts 66-72 Chevy Buick Olds Pontiac Chevelle GTO
SUPPORT AMERICAN WORKERS!
BUY AMERICAN-MADE PRODUCTS!

This is 4 correct bolts & 4 washers to mount trans to bell housing for GM  cars.   These are correct for many GM cars like El Camino Grand Prix Monte Carlo judge 4-4-2 Malibu  GTO Chevelle Camaro Skylark Cutlass .   These have the correct plating.  Includes only 4 bolts & 4 lock washers.    
Search   cadillac buick chevy chevrolet olds oldsmobile pontiac ss super sport judge ram air copo yenko rare NOS  chevelle Malibu monte carlo gto lemans tempest 1 2 3 4 5 I II III IV V gp g/p grand prix gs gran sport special skylark 442 4 4 2 4-4-2 Bonneville catalina exective star chief executive nova impala caprice Camaro firebird Delmont wildcat 88 98 225 Cadillac cutlass f85 67 68 69 70 71 72 66 65 64 1965 1964 1966 1967 1968 1969 1970 1971 1972