ground strap set 66 Chevy Chevelle Malibu 283 327 396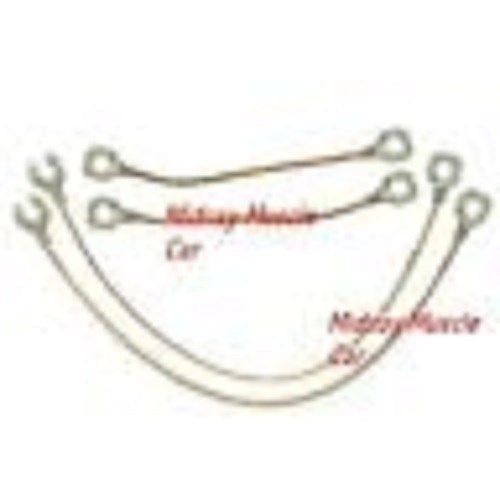 ground strap set 66 Chevy Chevelle Malibu 283 327 396
SUPPORT AMERICAN WORKERS!
BUY AMERICAN-MADE PRODUCTS!

EXACT REPRODUCTION GROUND STRAP SET
Exact reproduction new ground strap set manufactured using the correct type and length of copper braiding.  The ground straps are attatched to various locations throughout the vehicle in several locations.  These were used to provide ground throughout the body as well used to eliminate ignition "noise" being heard through the radio.   Often cars have one or the other missing from corrosion, deterioration or engine repairs.  This is a complete set that comes with a instructional installation diagram.  These are manufactrued to the original blueprint NOS specifications.  These sets are identical to the straps as they would have appeared on the vehicle when shipped from the assembly plant  They will look, fit and perform exactly as original.
In order to satisfy the most discriminating enthusiast/restorer, we offer these authentic reproduction ground strap sets . These straps will provide the finishing touch for any original or restored vehicle. They are built using original GM blue prints, cut to the exact lengths to provide a tailored look, and contain the correct type braiding as well as the correct ends.  For those of you concerned about having your car judged, our reproduction ground strap sets will pass all judging standards. They will look, fit and perform exactly as original.
These fit the following 66 Chevrolet Chevelle Malibu El Camino models with big-block or small-block V8 engines, including 283 327 or 396 .  Includes installation diagram.