gauge temp sending unit 68 Chevy chevelle & 68-71 Vette temperature sensor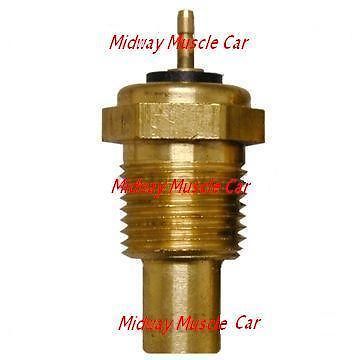 gauge temp sending unit 68 Chevy chevelle & 68-71 Vette temperature sensor
SUPPORT AMERICAN WORKERS!
BUY AMERICAN-MADE PRODUCTS!

We now offer a accurate temperature sending unit for many Chevrolet models. Months of research were devoted to this project in order to provide our customers with sending units that have the original-type terminal connection, housing and resistance (thermistor); resulting in an accurate gauge reading.  Requires pingrip/sleeve terminal connector as original.  They screw right into the 1/2" pipe thread hole (as original).   This is for models with Rally Gauges (not dummy lights).
Both auto part's stores and GM/Delco do sell replacement temperature sending unit, but they do not produce an accurate gauge reading in vintage cars. This is because sending units from an auto part's store and even GM, are only a generic replacement; often requiring a new, matching gauge or re-calibration of your original gauge.
This fits the following 68 Chevrolet models with V8 and rally gauges Camaro Chevelle malibu ss rs/ss impala caprice kingswood biscayne el camino corvette 350 400 327 302 396 427 454 1968 Chevy Chevrolet super sport
 Also fits 68 69 70 71 Corvette