downstream lower o2 oxygen sensor extensions harness 15 16 17 Ford Mustang 5.0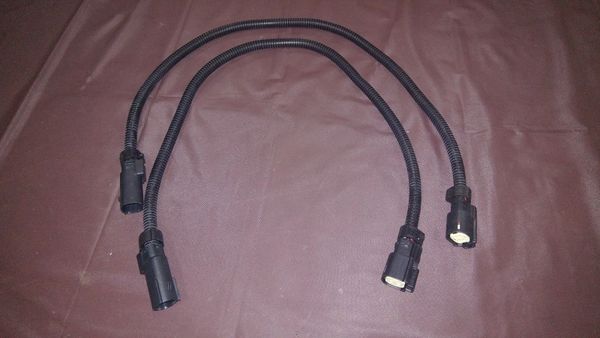 downstream lower o2 oxygen sensor extensions harness 15 16 17 Ford Mustang 5.0
This is a pair of 2 new 24" 2015-17 Ford Mustang lower downstream Oxygen Sensor extension harnesses .  These plug in between your existing O2 sensor and your cars wiring harness.  They are 24" long connector to connector.
Includes: New Left & Right Side O2 Sensor Extension Harnesses
Fits: 2015 2016 2018 5.0L Ford Mustangs
For use With Headers, X-Pipes, H-Pipes and High Flow Catalytic Converters. For Off Road Use ONLY!  

Please Note:
In some instances the O2 Sensor Plug or the small directional location tabs
may be different. In these instances the removal/trimming or reshape with file of the plastic locating tab may be required.
NOTE: All o2 - OLP and Catalytic Converter Delete tuning products are STRICTLY FOR OFF-ROAD USE ONLY or use in  countries outside of the United States that do not have emissions  requirements! These products are NOT for use on any vehicle registered for highway use in the USA. According to the EPA Clean Air Act, they are illegal for use on any Federal, State, or Local public highways and illegal use is punishable by the penalties enacted by the mentioned laws.