battery butler 6 volt tender storage trickle charger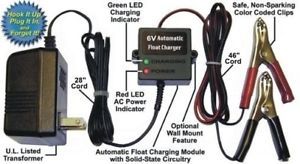 battery butler 6 volt tender storage trickle charger
Battery Butler® 6 Volt Automatic
BATTERY STORAGE / MAINTENANCE CHARGER

This is a new battery butler system for 6 volt batteries
 Payment due within 2 weeks of end of auction.  Buyer pays for shipping charges. 
THE PROBLEM:  You try to start your vehicle after it's been
              sitting for a few weeks or months, and your
              battery is completely dead.
THE SOLUTION: The Battery Butler® Storage Charger!

The Battery Butler® Battery Storage/Maintenance Chargers are specifically designed for the
maintenance of batteries that are stored or only used periodically. We offer this for 6 volt batteries.

This charger will prevent the normal self-discharge of your battery, while extending the life of
rechargeable 6 volt batteries rated from 5 to 125 amp-hours, by providing a minimum
current, regulated output. Other types of chargers provide a strong, rapid charge that tend
to boil out liquids and decay electrodes.

With the Battery Butler® charger, once your battery has been fully charged, it will
automatically shut-off; then resume charging as your battery level drops.

Works on ALL wet cell, gel-cell or the new OPTIMA™ batteries. Works on
ALL years, ALL make & model car, truck or motorcycle batteries.

The Battery Butler® Battery Storage Chargers are specifically designed for long term use.
You can safely leave it connected to your battery for days, weeks, months,
even years!

Did you know that every week your battery will lose 4% of its charge just by sitting
(with no load)? Read about this and more Battery F.A.Q.s or the general F.A.Q.s.

Battery Butler®
Battery Storage Chargers

Conventional Battery Chargers
and Trickle Chargers
 Fully Automatic - Will keep your battery
 fully charged without over charging.  The
 on-board microprocessor turns the charger
 on and off based on your battery's demands.
 It does so automatically, every few
 milliseconds.
 Battery must be monitored to avoid over-
 charging and boiling-out battery's internal
 electrolyte. This is because a trickle
 charger does not have the electronics to
 regulate its voltage based on your
 battery's demands. 
 Designed for long term vehicle storage.
 Hook it up to your battery.  Plug it into any
 wall outlet, and forget it (days, weeks,
 months even years).
 If left unmonitored, may over-charge and ruin
 your battery.
 Works on ALL year, ALL make & model
 car, truck or motorcycle 6 Volt batteries!
???
 Includes simple to read LED charging status
 indicators:
 

RED

 LED light indicates power to the
 module from AC outlet.
 

GREEN

 LED light indicates battery being
 charged. On a good battery, the Green light
 will go out when battery is fully charged.
 Most trickle chargers do not include a
 status indicator and conventional chargers
 use hard to understand meters.
 When using the BatteryButler® charger,
 you do not need to disconnect your
 vehicle's battery cables.
 Spikes from conventional battery chargers
 can ruin sensitive vehicle electronics.
 Disconnecting the vehicle's battery cables
 from the battery is highly recommended.
 Provides a safe, regulated minimum
 current charge (less than 1/2 amp) to your
 battery to maintain its peak capacity.  Once
 your battery has fully charged, the charger's
 output current to your battery will stop -
 then resume as soon as battery level drops.

 On a side note...
 We receive many phone calls inquiring
 about the low amperage of our chargers.
 Unknowingly, some of these callers
 assume that more amps is better - and that
 our chargers, that output less than 1/2 amp,
 are not as good as those that output 1-1/2
 amps or more.  Our reply is simple.  Why
 should you dump more amperage into your
 battery than necessary?  The lower the amps
 and slower the rate of charge, the better and
 safer it is for your battery!

 Please remember that the purpose of the
 BatteryButler® storage/maintenance charger
 is to safely keep your battery at peak charge
 over a long period of time (weeks, months,
 years). It is not designed to quickly charge
 your battery so you can get to work on time.

 Deliver a strong, rapid charge that tends
 to boil-out battery liquids and decay battery
 electrodes. This is not good for any battery.
 Even a "trickle charger" is not designed for
 long term continuous use since it can not
 regulate its output voltage; and its
 amperage can be too high.
 Safe for use on newer cars & trucks with
 computers, clocks and delicate electronics.
 On newer vehicles vehicles, when the engine
 is turned off, the vehicle's electronics
 typically draw a constant 15-50ma (milliamp)
 from the battery.  The BatteryButler®
 Storage Charger can easily, and safely
 replenish this draw with its 300-500ma
 (or about 1/2 amp) output.
 Other small storage/maintenance-type
 battery chargers deliver a charge of
 between 1 & 2 amps (or higher).  This
 amount of amperage is not necessary.
 The higher the amperage, the less safe,
 and harder it is on your battery.

 The latest technology Optima batteries
 do not recommend charging their
 batteries with a float charger that outputs
 over 1 amp.

 Charges your 6 volt battery at approximately
 6.9 volts as recommended by most battery
 manufacturers. You can check with the
 manufacturer of your specific battery for their
 recommendation.
 May charge at 14 volts or higher.  The
 higher the charging voltage, the greater
 the probability for battery overheating and
 damage. 
 Short-Circuit Protected.  If, for a brief
 moment, you accidentally touch the 2 leads
 of this charger together, it will not damage
 the charger's internal circuitry.
 ???
 These chargers are so sensitive to a drop
 in battery voltage that many times the
 green indicator light will appear to flash, as
 the module cycles on & off.
 Sensitivity of this level can only be found on
 higher priced battery chargers.
 Designed for use on wet-cell, gel-cell or
 OPTIMA™ batteries.

 Note: OPTIMA™ Batteries use AGM
 (Absorption Glass Mat) technology.  These
 batteries can be charged at normal lead-acid
 regulated charging voltages. For more info.
 go to Optima Battery F.A.Q.

 Not only will our BatteryButler® chargers
 shut off when necessary, the output current
 is less than 1/2 amp so it's completely
 safe for use on OPTIMA™ batteries.

 May not be recommended for use
 on batteries other than a wet cell type.
 This is because of the fact that these
 chargers do not automatically turn
 on & off, their output current is higher
 than 1 amp.
 The BatteryButler® charger can also charge
 deep cycle batteries.  This is ideal for
 batteries used on boats, trolling motors,
 sump pump back-up systems, etc.
 ???
 The BatteryButler® charger is designed to
 charge 1 battery at a time.
 Other manufacturers claim that their
 charger is able to charge multiple batteries
 at the same time. This may be true.  But
 their charger, that can maintain 2 batteries,
 costs $130.  And the one that maintains
 4 batteries costs $250!!!

 Less do the math....
 You can buy (6) BatteryButler® chargers
 (and charge 6 batteries) for the price of 1
 of the "other guys" 2-bank charger.

 You can buy (12) BatteryButler® chargers
 (and charge 12 batteries) for the price of
 the "other guys" 4-bank charger.

 Simple Math = Big Savings!

 You do not need to add water to your battery
 during non-use periods.  However, while your
 battery is being charged, it is always
 recommended that you periodically check
 the water level of any non-maintenance-free
 battery at intervals recommended by the
 manufacturer.  You do not have to check
 (nor can check) the water level of
 maintenance-free type batteries.
 Other battery charger manufacturers infer
 that you don't need to check the water level
 of your battery.  This makes no sense as
 your water level will drop over time as
 your battery is charged.  If the water
 is not replenished to cover the internal
 lead plates, your battery may be ruined!
 1 Year Warranty with proof of purchase
 from

us

. Takes the risk out of
 trying the BatteryButler® charger.
 Many companies have no warranties on
 electrical devices.  Other companies will
 only warranty their chargers for 30-90 days.

 (6 volt Charger)
 Only $21 ea.

 

 6 volt chargers like this sell for
 substantially more, if you can find one.

When we're asked, "How can you sell this charger for so little money, when a similar charger from the "other guy's" sells for $45 - $85?" Our response is, "The other guys are charging a lot, because people are paying that much."   Now there's no reason to over-pay.

What is a Float Charger? (new window will open)

How Does A Float Charger Work? (new window will open)

At a price of only $21 (6 volt version), why not buy several?
The Battery Butler®  Charger will safely maintain the
batteries of infrequently used vehicles & items, such as:


ANTIQUE
CARS

ANTIQUE
TRUCKS

MOTORCYCLES

BOATS

LAWN TRACTORS

SNOWMOBILES

PERSONAL
WATER CRAFTS

ATVs

WHEEL CHAIRS

RVs &
MOTOR HOMES

FARM EQUIPMENT

INDUSTRIAL
EQUIPMENT

FORK LIFTS

PLANES

GOLF CARTS


ELECTRIC
START DEVICES

BACKUP PUMPS
& much more
Say goodbye to battery cables!
search 48 49 50 51 52 53 54 55 56 57 58 59 60 61 62 63 64 65 66 67 68 69 70 71 72 73 74 75 76 77 78 79 80 81 82 83 84 85 86 87 88 1969 1970 1971 1972 1973 1974 1975 1976 1977 1978  1979 1968 1967 1966 1965 1964 pontiac  judge ram air gto lemans tempest bonneville executive catalina 1 2 3 4 5 I II III IV V t/a trans am ta firebird ventura gp g/p grand prix granville safari grand am can am formula star chief sd455 super duty ho 326 350 389 400 421 428 455  Hemi Chrysler Plymouth Dodge barracuda cuda challenger dart demon belvedere savoysatellite GTX super bee muscle car coronet charger daytona road runner super bird   ss super sport rs rs/ss copo yenko rare z-28 z28 z/28 monte carlo  bronco fairlane 500 fairmont falcon galaxie mustang ranchero t-bird thunderbird continental mark capri comet cougar cyclone gt boss shelby f-100 mach 1 cobra 1987 chevy chevrolet copo yenko rare corvette vette stingray l88 l82 427 454 396 l89 ls5 ls6 ls7 impala caprice biscayne chevelle malibu ss rs rs/ss z28 z-28 z/28 copo nova camaro kingswood fleetwood brougham deville coupe sedan eldorado calais corvair monza riviera electra wildcat centurion lesabre estate special gs gran sport special buick pontiac cadillac olds oldsmobile packard hudson kia hyundai desoto volkswagon mg shelby mitsubishi honda toyota suzuki yamaha subaru skylark toronado 88 98 delta delmont dynamic jetstar starfire nova omega apollo ventura 442 4 4 2 4-4-2 cutlass f85 vista cruiser biscayne GTO lemans tempest grand prix judge bonneville safari catalina star chief sd super duty executive ventura firebird t/a trans am g/p ram air cadillac lasalle packard studebaker hudson orphan acura land rover lexus bmw lincoln buick mazda hyundai mitsubishi mercedes-benz corvette chrysler mercury coupe minivan ford porshe gmc mustang honda smart hummer toyota infiniti jeep volkswagen amc alfa romeo aston martin audi austin healey bentley bugatti cord citroen deloreon  desoto eagle edsel daewoo datsunaguar  ferrari fiat international harvestor jaguar isuzu kia lamborghini lancia land rover lotus mg maserati maybach mini nash opel peugeot renault saab rolls-royce saturn scion shelby cobra triumph volvo willys