68 69 70 71 T-3 T3 HEADLAMP HEADLIGHT SET gto chevelle chevy pontiac olds 442 GS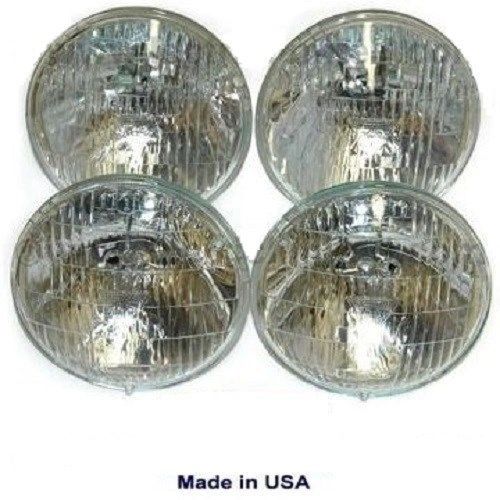 68 69 70 71 T-3 T3 HEADLAMP HEADLIGHT SET gto chevelle chevy pontiac olds 442 GS
SUPPORT AMERICAN WORKERS!
BUY AMERICAN-MADE PRODUCTS!
These are the only T3 bulbs that have the correct USA stamp on front of lens, (the foreign made bulbs do NOT have this)
               These are the only T3 bulbs that are legal for street use and are approved by the U.S. Dept. of Transportation & National Highway Traffic Safety Administration
This is a set of new T-3 head lamps (2 high beam and 2 low beam). This set has ribbing in the triangle. Fits all cars with 4 head lamp system.  Great care was taken to improve the photometrics and candlepower of these bulbs in order to meet the current Federal Highway Safety Standards, without compromising the original lens prescription.
Our 1968-71 bulbs will fit, and be correct for, all 1968-71 GM vehicles with a 4 headlight bulb system using 5-3/4" bulbs. 
Bulb Size: 5-3/4"
Complete set includes (2) hi-low beam & (2) hi beam bulbs.
- Brand new reproduction sets
- Produced using original factory blueprints
- Correct! Having the original T-3® and GUIDE insignia
- 25% brighter than original bulbs
- Built for longer bulb life
- Officially Licensed
- Made by an OEM manufacturer in the U.S.A.
- Available for many GM makes/models
- Sold in complete sets only
Fits Chevy Chevrolet Pontiac Cadillac Olds Oldsmobile Buick 68 69 70 71 1968 1969 1970 1971 Corvette vette Chevelle Malibu Trans Am Firebird GTO Tempest LeMans  Grand Prix Bonneville Cutlass 4-4-2 442 GS Gran Sport Skylark El Camino Toronado Impala Delta 88 and more