64-74 spark plug wire grommet MOPAR 383 440 318 426 330 gtx dodge coronet cuda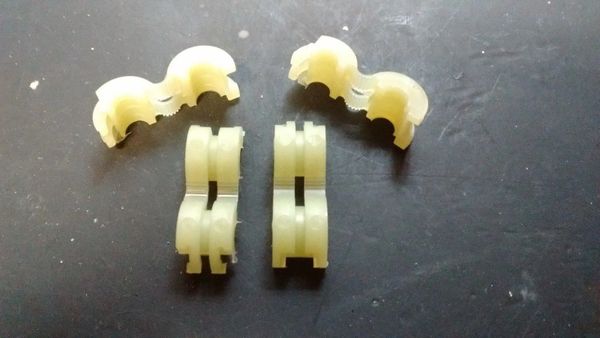 64-74 spark plug wire grommet MOPAR 383 440 318 426 330 gtx dodge coronet cuda
This is for a set of four grommets.
These fit following MOPAR models with V8.  Chrysler Plymouth Dodge belvedere savoy satellite GTX super bee coronet charger daytona road runner super bird fury VIP suburban valiant duster scamp signet cuda barracuda imperial polara monaco custom 880 dart demon swinger 330 challenger newport new yorker 300 town & country
64 65 66 67 68 69 70 71 72 73 74 1964 1965 1966 1967 1968 1969 1970 1971 1972 1973 1974
We are authorized by Chrysler LLC ®
to reproduce these
spark plug wire sets!
These would be used on all V8 Mopar engines from 64-74 
REPRODUCTION SPARK PLUG WIRE GROMMET
Exact reproduction set of 4 grommets made in the USA using OEM tooling.  These are wite with a slight greenish tint.  These grommets fasten around the spark plug wires and clip into the spark plug wire retainers.  Our Mopar reproduction plug wire grommets fit 1964-1974 models.
In order to satisfy the most discriminating enthusiast/restorer, we offer these authentic reproduction spark plug wire grommets.  These will provide the finishing touch for any original or restored vehicle. They are built using original MOPAR blue prints, cut to the exact lengths to provide a tailored look, and contain the correct coloring.  These reproduction sets are identical to the spark plug wire grommets as they would have appeared on the vehicle when it shipped from the factory.  For those of you concerned about having your car judged, our reproduction spark plug wire grommets will pass all judging standards. They will look, fit and perform exactly as original.
We carry a full line of wiring harnesses and date coded spark plug wires for many models and years, GM and MOPAR from 1955-1976.  If you don't see it listed just ask as we are always expanding our inventory for the highest in customer service.