1969 Ford Mustang Wiring kit 69 Classic Update Wiring Harness Series mach1 boss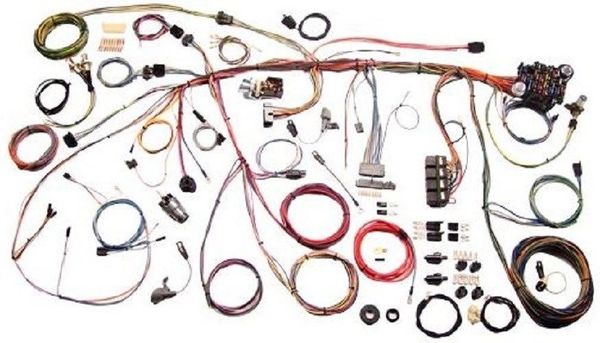 1969 Ford Mustang Wiring kit 69 Classic Update Wiring Harness Series mach1 boss
SUPPORT AMERICAN WORKERS!
BUY AMERICAN-MADE PRODUCTS!
PERFECT FOR WHEN BUILDING A RESTOMOD

CLASSIC UPDATE SERIES WIRING HARNESS SYSTEM, Manufactured specifically for 1969 models. Designed with the foresight, engineering, and flexibility to bring your electrical system up to date. Choose the routing of the wiring to fit your needs and accommodate all of the most popular custom/aftermarket and reproduction/original accessories available!!!! Includes many of the vehicle's basic electrical devices and detailed instructions!!!!
Kit Features:
Correct replacement headlight switch with internal circuit breaker
Original Ford styled headlight switch connector.
Headlight enhancement relays allow you to run high-powered Halogen headlights.
Separate relay controlled circuit for cars that have stock or aftermarket fog or driving lamps
Correct replacement ignition switch for use with your original bezel and tumbler
Correct original ignition switch connector
Standard turn signal flasher and hazard flasher mounted on fuse panel; horn relay mounted on harness.
New ATO Fusebox fits in center of the firewall away from heater and A/C ducts and allows for easy fuse and circuit breaker accessibility.
Harness allows for most after market accessories such as; gauge packages, heat and air conditioning systems, power windows, etc.
All required hardware supplied.
Original switch connector bodies!
Steering column connectors will plug directly into most after market steering columns.
Directions and an adapter with terminals are included for running a stock Mustang steering column.
Separate optional under-dash light sockets along with original dome/interior light wiring.
Instrument Cluster wiring is designed with a cluster harness disconnect system for easy service and assembly. The best aspect of the disconnect system is that any gauge cluster package can be easily and neatly wired in. This includes AUTOMETER, CLASSIC INSTRUMENTS, DAKOTA DIGITAL, STEWART WARNER, and VDO just to name a few.
Rear body harness assembly plugs into the main harness behind the left hand kick panel for easy accessibility and allows for original or custom routing. Rear body wiring includes backup light lead and ground wires, stop and tail light lead wires with proper molded light socket connections, third brake light wire and the correct license plate lead connection for use with your stock tag lamp. Fuel tank sender wire and sending unit extension are included.
New floor dimmer switch is provided. Wire length and connection accommodate original floor mount dimmer switch location.
Engine wiring includes feeds for coil, tach, water temperature, oil pressure, brake warning (with later updated extension if necessary), and electronic speedometer (if necessary). A heavy gauge alternator feed wire is provided for a typical 1 wire high-powered installation.
Front lighting includes extra long leads for special routing when custom under hood appearance is desired. All headlight, park light, fog light, and directional light leads are provided, as well as a switched trigger wire for electric fan relay (usually recommended with AC).